Related Products
Overview

TRIO is easy to use with a design that simply magnetizes to the back of any laptop as a solution for the working professionals, gamers, stock traders, entrepreneurs, coders, and students just like you - always on the go.




* Additional screen ( 1 Piece ) With a base that can add a third screen

* Tri-screen mode available.

12.5" FHD or 1080P Display

Perfectly fit your laptop with two different size options

Auto-Rotation Display

Featured with G-sensor for auto-rotation

Triple Screen Mode

Clip two TRIOs/ TRIO MAXs to experience tri-screen mode

Multi-Device Compatibility

Any laptops, Nintendo Switch and Samsung DeX supported devices

Hybrid-Signal Input

Quick connectivity with any laptop with a USB-C or USB-A port

Key Features

1 x TRIO Monitor

12.5" LCD Panel

USB Type-C and Type-A Inputs

1920 x 1080 Resolution

300 cd/m²

60 Hz Refresh Rate

Compatible with Windows, macOS & Samsung

Plug-and-Play with Android & Nintendo

Works with USB Type-C and A Ports

Includes Installation Hardware
Expand screen space on the go with the TRIO 12.5" 16:9 Portable Monitor in gunmetal gray from Mobile Pixels. Designed to provide additional screen space, this 12.5" LCD display features a 1920 x 1080 resolution. Attach this portable display to the back of your laptop and slide it out to provide additional screen space. An adjustable brightness of 300 cd/m² ensures comfortable viewing, while a 60 Hz refresh rate allows for smooth visuals. Compatible with Windows, macOS, and Samsung Dex, this portable monitor is also plug-and-play with Android smartphones and tablets and Nintendo Switch. Featuring USB Type-C and Type-A inputs, the monitor connects to an available USB Type-A or C port using the included 2-in-1 cable. Installation hardware is also included.

Portable Screen

Expand productivity by adding a screen to your laptop. Or, double down on gameplay thanks to plug-and-play support for Nintendo Switch and Android mobile phones with no dock.

Designed for Compatibility

This portable monitor is compatible with Windows, macOS, Nintendo Switch, and Samsung Dex.

Personalize Performance

The TRIO's full-course menu allows you to adjust brightness and color temperature, activate Eye Care Mode, and more.

Lightweight Design

Weighing just 1.7 pounds, the TRIO is designed for easy transport.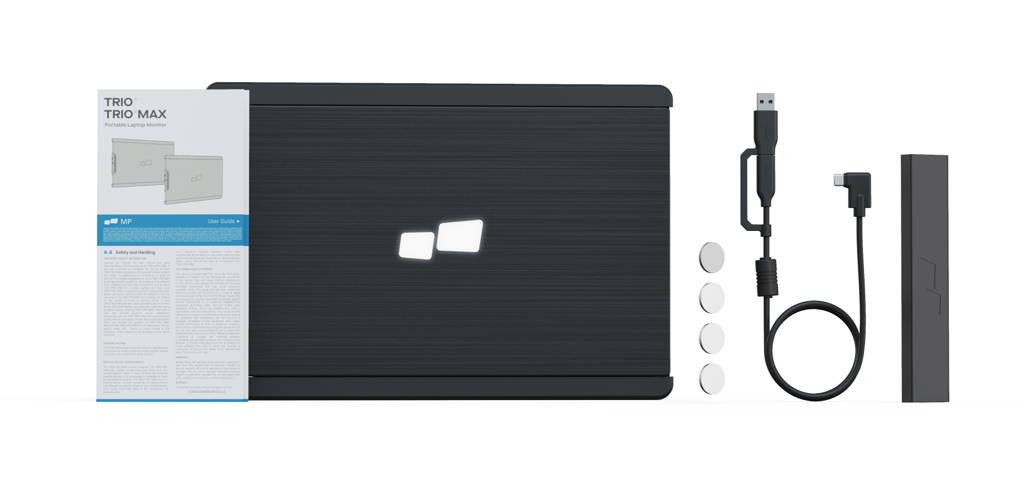 1. TRIO Monitor(x1) 2. 2-in-1 USB Type-C to USB-A (C) Cable 3ft. (x1)
3. Magnets - Silver (x4) 4. TRIO Clip (x1) 5. User Guide (x1)


12.5-inch (TRIO)
14-inch (TRIO Max)
12.4" x 8.6" x 0.5" (TRIO)
14.1" x 9.5" x 0.5" (TRIO Max)
Gunmetal grey (TRIO)
Metallic black (TRIO Max)
1.7 lbs(TRIO);
2.2 lbs(TRIO MAX)