Mounts in the same space as the 61FX ABL for easy drop-ins.
The 65AX is 1.9 ounces lighter than the 61FX.
Newly designed 61D carburetor features an angled needle for safety.
Includes an E-4010A muffler, #8 glow plug & needle extension cable set.
Compatible with the ultra-quiet, ultra-compact E-4050 muffler.

Stock Number: OSMG0558
Displacement: 0.65 cu in (10.63 cc)
Bore: 0.95 in (24 mm)
Stroke: 0.93 in (23.5 mm)
Practical rpm: 2,500-16,000
Output: 1.73 hp @ 16,000 rpm
Weight w/o muffler: 17.5 oz (497 g)
Includes: #8 glow plug, 61D carb, E-4010 muffler, needle extension cable set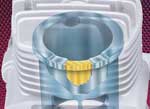 The Advanced Bimetallic Liner (ABL) uses O.S.
developed alloys to provide a durable barrier.