Related Products
FREE :

[2201424] Segway-Ninebot Password Lock

[2201425] Segway-Ninebot Phone Holder

[2201426] Segway-Ninebot Scooter Front Bag




Quick Overview:


Up to 20 km/h Maximum Speed

Up to 22 km Range and 45 km with optional battery

Built-In Front, Rear LED Lights

9 inch Dual Density FlatFree Tyres (maintenance-free)

Front, side and rear E-MARK reflectors

2 brakes: Electronic & Regenerative Front brake; Foot brake

15 % Easy Climbing

IPX4 Water-Resistant
Why to buy Segway Ninebot Kickscooter E22E Electric Scooter :
Enjoy a new way of individual commuting!
The Ninebot KickScooter E22E Powered by Segway is perfect for the last-mile commuters and leisure travellers with approx. 20 km/h maximum speed. With its lightweight & one-push folding system, the E22E can be easily stored in a car, public transport or just simply be carried in one hand. Owing to its comfort-oriented design, the battery has been fitted in the stem to make it a compact yet powerful KickScooter and it allows you to travel within a radius of approx. 22km range.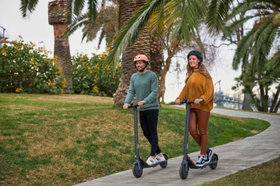 Upgrade your riding experience with the Dual Density Flat-Free Tyres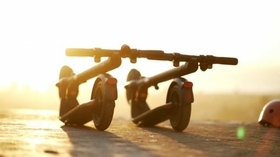 Developed and tuned for 3 years, the Dual Density Flat-Free tyres offer a highly elevated driving experience that simulates the comfort of pneumatic tyres and shock absorption, while you have the ease of puncture-proof solid tyres.
Exceptional Design, Love at First Sight
The Ninebot KickScooter E22E adopts an integrated frame design, stylish yet simple with a powder coating finish, which delivers outstanding texture to the KickScooter. Travel in a radius up to 22 km (13.7 miles) in style!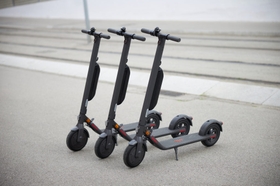 Smart Battery Management System (BMS)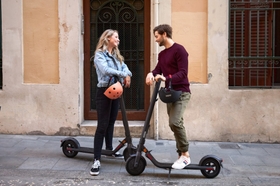 The BMS system at Segway-Ninebot has undergone 7 years of continuous technological development and produced 300 million batteries. We are devoted to extending the battery life, ensuring user safety, and accurate power display.
The KickScooter will bring you anywhere you need to go
Ninebot KickScooter E22E folds in just one step and can easily fit in the trunck of your car. This device is also easy to carry, with a net weight of 13.5 kg (29.8 lbs), allowing you to single-handedly carry it into subways or elevators, unlocking unlimited possibilities.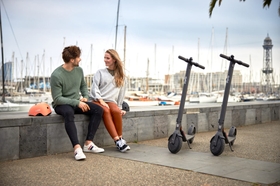 Specifications
Rider
Minimum age 14+
Max. driver weight 100 kg (220 lbs)
Dimensions and Weight
Product dimension Unfolded: 111 x 42 x 112 cm
Product dimension Folded: 114 x 42 x 36 cm
Net weight 13.5 kg (29.8 lbs)
Product Parameters
Max. speed Up to 20 km/h (12.5 mph)
Max. speed (+5 km/h upgradable with optional extra battery)
Max. range Up to approx. 22 km (13.7 miles)
Max. range (+23 km, total 45 km with optional extra battery)
Max. climb angle Up to 15%
Shock absorption No
Water resistance IPX4
Battery
Battery 184 Wh (5100 mAh)
Smart Battery Management System Yes
Max. charging time Up to 3.5 hours (excl. optional extra battery)
Motor
Power output 300 W
Brakes
Brake Electronic & Regenerative front brake and foot brake
Lights
Lights Front (2.5W high power), Rear and Brake lights
Brake lights rear Yes (Flashing)
Ambient lights No
Tyres
Tyres size Dual Density Flat-Free Tyres (maintenance free)
Tyres size Front: 22.9 cm / 9 inch
Tyres size Back: 22.9 cm / 9 inch
Connectivity
App monitor Yes
Remote control via App No
Bluetooth Yes
Other Characteristics
Folding mechanism Hands-free quick & compact fold
Info display Full info dashboard display
LED Screen LED (Speed, remaining power, modes, maintenance, bluetooth connection)
Riding modes 3 riding modes (Eco, Standard, Sport)
Cruise Control Yes
Certified reflectors Yes (front, rear and side E-MARK reflectors)
Bell : Press Bell included in the Box
Insurance Plate Holder No
Box
Box contents Handle, mainframe, user materials (user manual, quick start, limited warranty), M5 Flathead Screw x 7 (one extra), M5 hex wrench, battery charger and bell
Box dimensions 115.5 x 19.6 x 51.4 cm