Related Products
Overview:
· The Ronin-SC stabilizer for mirrorless cameras supports a wide range of cameras and lenses. It has been rigorously tested to support a payload of 4.4 lbs / 2.0 kg while still achieving a smooth, cinematic shot.
· Offers a suite of advanced capturing features to unleash your imagination like Panorama, Timelapse, Motionlapse, Motion Control, ActiveTrack 3.0
· Axis locks on each arm allow for faster storage and individual axis balancing. The Quick-Release Plate includes a positioning block to memorize the perfect camera position for instant remounting.
· Use the Ronin App to get access to preset scenarios, and the camera balancing guide, along with tutorials to help users master their handheld gimbal. The app also minimizes hardware tuning, setting filmmakers free to produce great footage.
Whether it's for a run-and-gun setup or you're just aiming for a lightweight and mobile unit, gimbals bring stabilization and control for quick-moving action shots. And to help build your on-the-go system, DJI announced the new Ronin-SC gimbal, capable of fast motion tracking and superior stabilization.
The DJI Ronin-SC Gimbal Stabilizer brings many improvements over its predecessor, the Ronin-S, with this smaller and lighter stabilized, three-axis single-handle gimbal, designed for small mirrorless cameras under 4.4 lb. Though the Ronin-SC is smaller, it packs an abundance of features, design enhancements, and technology inside its compact form. The gimbal features stabilization, pan, tilt, and roll control, as well as 360° continuous panning to create steady 3D/360° motion shots.
On its own, the gimbal weighs only 2.4 lb, so it is ultra-portable and makes it easier to hold the gimbal with a mounted camera for longer periods of time. It features two locking modes for balancing your camera and for storage. The sliding quick release camera plate makes it easy to rebalance your camera after you've moved to a new location—balance your camera in the balancing lock position, unmount your camera with the plate, put the gimbal in storage mode and travel, take the gimbal out and remount your camera, unlock and turn the gimbal on and voilà, your camera will still be balanced.
The Ronin-SC features a record button and a joystick for precise gimbal control, as well as a re-center front trigger button to bring the gimbal back to its default position. There is also an M button that you can press and hold to enter Sport Mode, which provides fast tracking response when recording action sequences. Using the Android or iOS app over Bluetooth 5.0, Active Track 3.0 has been updated to help users track a subject with the gimbal without having to use any controls at all. Another handy function is DJI's Force Mobile, which allows you to control your gimbal's motion when it's mounted on a rig or tripod using the gyroscope of your smartphone, allowing you to perform more precise gimbal movements using your own natural motion. Other built-in features include time-lapse and motion-lapse modes.
The Ronin-SC is powered by a 2450mAh rechargeable 18650 LiPo battery built into its handle, which lasts up to 11 hours on a single charge. It is charged via a USB Type-C port and can also provide camera control such as run/stop or focus pulling using one of the included multiport USB cables connected to a compatible camera. There are also 1/4"-20 and 3/8"-16 mounting threads on the handle to add accessories such as the included smartphone holder.
Also included with the Ronin-SC are an extended grip/tripod, camera riser, lens support, port cover, Allen wrench, quick release plate with 1/4"-20 camera mounting screw, an M4 screw, a multicamera USB control cable, a multicamera USB Type-C control cable, a USB Type-C charging cable, a USB Type-C to micro-USB adapter, and a storage case.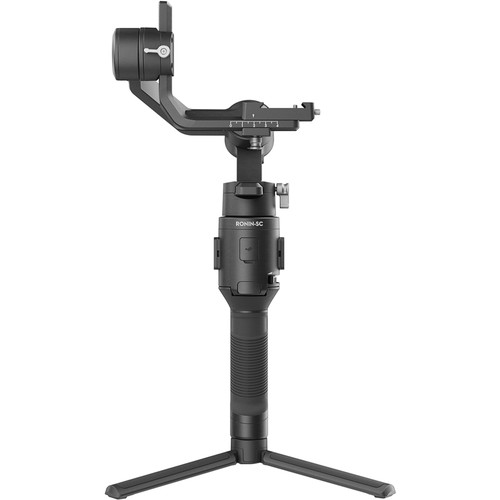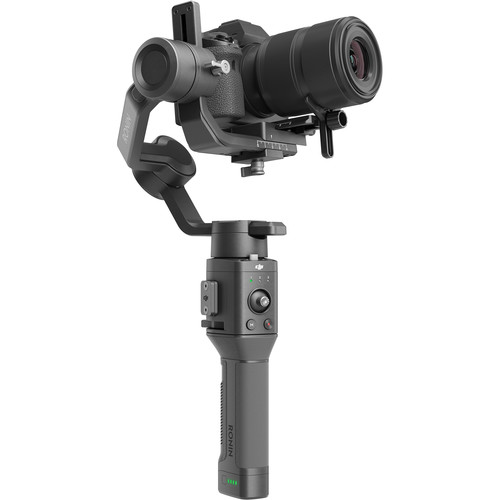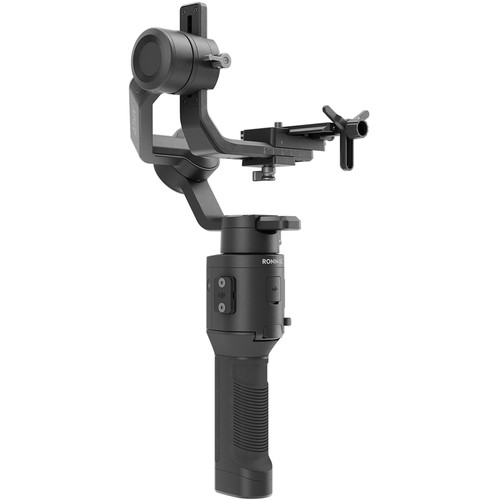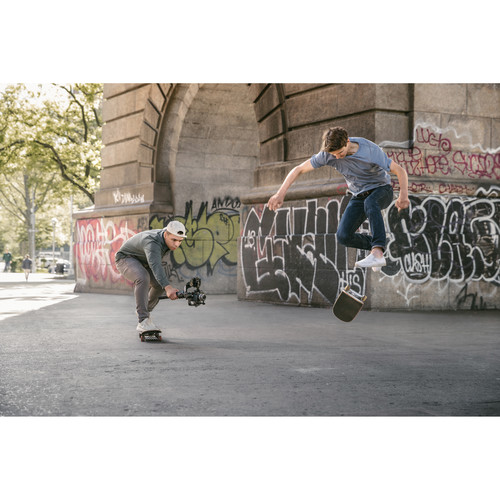 Gimbal
Number of Axes

3-Axis (Pitch, Roll, Yaw)

Rotation Range

Yaw (Pan): 360°
Pitch (Tilt): 280° (-95 to 185°)
Roll: 315° (-202.5 to 112.5°)

Follow Speed

Pan: 180°/s
Tilt: 180°/s
Roll: 180°/s

Load Capacity

4.85 lb / 2.2 kg
Connectivity
Ports

1 x USB Type-C (Power) Input
1 x CAN (Control) Input

Wireless Frequency

Video: 2.4 GHz (2.4 - 2.483)

Wireless Protocol

Bluetooth 5.0
Battery
| | |
| --- | --- |
| Battery Type | 1 x Built-In |
| Capacity (mAh) | 2450 mAh |
| Capacity (Wh) | 17.64 Wh |
| Battery Runtime | 11 Hours |
| Battery Chemistry | Lithium-Ion Polymer (LiPo) |
| Voltage | 7.2 VDC |
Power
Environmental
| | |
| --- | --- |
| Operating Temperature | -4 to 113°F / -20 to 45°C |
General
Mounting

1 x 1/4"-20 Female
1 x 3/8"-16 Female

Dimensions

8.66 x 7.87 x 2.95" / 220 x 200 x 75 mm (Folded)
14.57 x 6.5 x 5.91" / 370 x 165 x 150 mm

Weight

2.43 lb / 1.1 kg (with Handlebar)
Packaging Info
| | |
| --- | --- |
| Package Weight | 4.55 lb |
| Box Dimensions (LxWxH) | 15 x 13 x 3.75" |